181 Inspirational Quotes for Leaders of Growing Businesses
If you're looking to grow your business, it is important to stay motivated and keep an open mind.  Inspiration is the first step to success.  We've brought together a variety of quotes from business leaders, gurus, change agents and other great minds to help inspire you to grow your business and achieve even greater levels of success.
You can filter the quotes by different topic areas. We'd particularly highlight developing people and personal growth, as we hope you will be inspired to advance your own learning and develop your people. If so, Coachical can help.
You can also filter by year and we have also selected our favourites. So without further ado… it's time for you to explore and get inspired!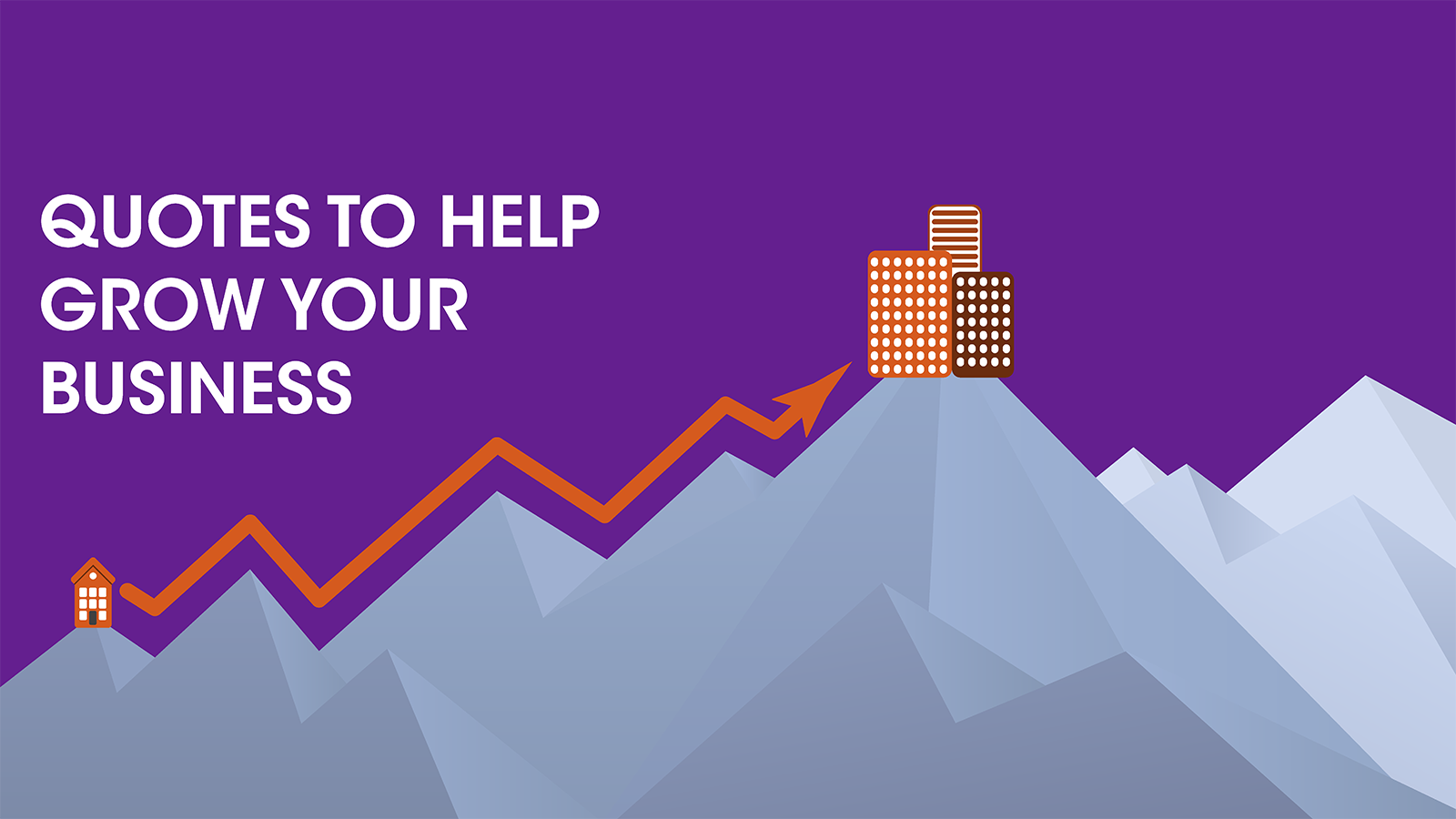 Show Me Quotes About
From
Only Show Our Favourites
"'Give as few orders as possible,' his father had told him once long ago. 'Once you've given orders on a subject, you must always give orders on that subject.'" – Frank Herbert
"'Restore connection' is not just for devices, it is for people too. If we cannot disconnect, we cannot lead. Creating the culture of burnout is opposite to creating a culture of sustainable creativity. This is something that needs to be taught in business schools. This mentality needs to be introduced as a leadership and performance-enhancing tool." – Arianna Huffington
"A good leader inspires others with confidence in him; a great leader inspires them with confidence in themselves." – Unknown
"A good leader is a person who takes a little more than his share of the blame and a little less than his share of the credit." – John Maxwell
"A good leader leads the people from above them. A great leader leads the people from within them." – M.D. Arnold
"A great person attracts great people and knows how to hold them together." – Johann Wolfgang von Goethe
"A leader is a dealer in hope." – Napoleon Bonaparte
"A leader is best when people barely know he exists, when his work is done, his aim fulfilled, they will say: we did it ourselves." – Laozi
"A leader is someone who demonstrates what's possible." – Mark Yarnell
"A leader is the one, who knows the way, goes the way and shows the way." – John Maxwell
"A leader isn't someone who forces others to make him stronger; a leader is someone willing to give his strength to others so that they may have the strength to stand on their own." – Beth Revis
"A leader leads by example not by force." – Sun Tzu
"A leader takes people where they want to go. A great leader takes people where they don't necessarily want to go, but ought to be." – Rosalynn Carter
"A leader takes people where they would never go on their own." – Hans Finzel
"A leader...is like a shepherd. He stays behind the flock, letting the most nimble go out ahead, whereupon the others follow, not realizing that all along they are being directed from behind." – Nelson Mandela
"A man always has two reasons for doing anything: a good reason and the real reason." – J.P. Morgan
"A man who wants to lead the orchestra must turn his back on the crowd." – Max Lucado
"A teacher affects eternity; he can never tell where his influence stops." – Henry Adams
"A throne is only a bench covered with velvet." – Napoleon Bonaparte
"Action without vision is only passing time, vision without action is merely daydreaming, but vision with action can change the world." – Nelson Mandela
"Actions not words, are the ultimate results of leadership." – Bill Owens
"Affirmation without discipline is the beginning of delusion." – Jim Rohn
"Always remember, Son, the best boss is the one who bosses the least. Whether it's cattle, or horses, or men; the least government is the best government." – Ralph Moody
"Anyone can hold the helm when the sea is calm." – Publilius Syrus
"Average leaders raise the bar on themselves; good leaders raise the bar for others; great leaders inspire others to raise their own bar." – Orrin Woodward
"Be a yardstick of quality. Some people aren't used to an environment where excellence is expected." – Steve Jobs
"Become the kind of leader that people would follow voluntarily; even if you had no title or position." – Brian Tracy
"Before you are a leader, success is all about growing yourself. When you become a leader, success is all about growing others." – Jack Welch
"Being responsible sometimes means pissing people off." – Colin Powell
"Change will not come if we wait for some other person, or if we wait for some other time. We are the ones we've been waiting for. We are the change that we seek." – Barack Obama
"Clarity affords focus." – Thomas Leonard
"Consensus: The process of abandoning all beliefs, principles, values, and policies in search of something in which no one believes, but to which no one objects; the process of avoiding the very issues that have to be solved, merely because you cannot get agreement on the way ahead. What great cause would have been fought and won under the banner: 'I stand for consensus?'" – Margaret Thatcher
"Contrary to popular opinion, leadership is not a reserved position for a particular group of people who were elected or appointed, ordained or enthroned. Leadership is self-made, self-retained, self-inculcated and then exposed through a faithful, sincere and exemplary life." – Israelmore Avivor
"Courage is what it takes to stand up and speak; courage is also what it takes to sit down and listen." – Winston Churchill
"Do you know that one of the great problems of our age is that we are governed by people who care more about feelings than they do about thoughts and ideas?" – Margaret Thatcher
"Doing is a quantum leap from imagining." – Barbara Sher
"Don't be intimidated by what you don't know. That can be your greatest strength and ensure that you do things differently from everyone else." – Sara Blakely
"Don't find the fault, find the remedy." – Henry Ford
"Your time is limited, so don't waste it living someone else's life. Don't be trapped by dogma – which is living with the results of other people's thinking. Don't let the noise of other's opinions drown out your own inner voice. And most important, have the courage to follow your heart and intuition. They somehow already know what you truly want to become. Everything else is secondary." – Steve Jobs
"Don't blow off another's candle for it won't make yours shine brighter." – Jaachynma N.E. Agu
"Don't follow the crowd, let the crowd follow you." – Margaret Thatcher
"Don't tell people how to do things, tell them what to do and let them surprise you with their results." – George Patton
"Don't waste your energy trying to educate or change opinions; go over, under, through, and opinions will change organically when you're the boss. Or they won't. Who cares? Do your thing, and don't care if they like it." – Tina Fey
"Earn your leadership every day." – Michael Jordan
"Example is not the main thing in influencing others, it is the only thing." – Albert Schweitzer
"Go as far as you can see; when you get there, you'll be able to see farther." – J.P. Morgan
"Good business leaders create a vision, articulate the vision, passionately own the vision, and relentlessly drive it to completion." – Jack Welch
"Good leaders must first become good servants." – Robert Greenleaf
"Great companies in the way of work, start with great leaders." – Steve Ballmer
"He who cannot be a good follower cannot be a good leader." – Aristotle
"he who is prudent and lies in wait for an enemy who is not, will be victorious." – Sun Tzu
"Humility is a great quality of leadership which derives respect and not just fear or hatred." – Yousef Munayyer
"I am not afraid of an army of lions led by a sheep; I am afraid of an army of sheep led by a lion." – Alexander the Great
"I cannot give you a formula for success, but I can give you the formula for failure, which is: try to please everybody." – Herbert Bayard Swope
"I cannot trust a man to control others who cannot control himself." – Robert E. Lee
"I don't know any other way to lead but by example." – Don Shula
"I don't see myself being special; I just see myself having more responsibilities than the next man. People look to me to do things for them, to have answers." – Tupac Shakur
"I have not failed. I've just found 10,000 ways that won't work." – Thomas A. Edison
"I have three precious things which I hold fast and prize. The first is gentleness; the second is frugality; the third is humility, which keeps me from putting myself before others. Be gentle and you can be bold; be frugal and you can be liberal; avoid putting yourself before others and you can become a leader among men." – Laozi
"I never dreamed about success. I worked for it." – Estée Lauder
"I never thought in terms of being a leader. I thought very simply in terms of helping people." – John Hume
"I start with the premise that the function of leadership is to produce more leaders, not more followers." – Ralph Nader
"I was never the smartest guy in the room. From the first person I hired, I was never the smartest guy in the room. And that's a big deal. And if you're going to be a leader - if you're a leader and you're the smartest guy in the world - in the room, you've got real problems." – Jack Welch
"If there is no wind, row." – Latin Proverb
"If you can't swallow your pride, you can't lead. Even the highest mountain had animals that step on it." – Jack Weatherford
"If you really want the key to success, start by doing the opposite of what everyone else is doing." – Brad Szollose
"If you spend your life trying to be good at everything, you will never be great at anything." – Tom Rath
"If you want to build a ship, don't drum up the men to gather wood, divide the work, and give orders. Instead, teach them to yearn for the vast and endless sea." – Antoine de Saint-Exupéry
"If you would convince a man that he does wrong, do right. But do not care to convince him. Men will believe what they see. Let them see." – Henry David Thoreau
"If your actions inspire others to dream more, learn more, do more and become more, you are a leader." – John Quincy Adams
"In a battle between two ideas, the best one doesn't necessarily win. No, the idea that wins is the one with the most fearless heretic behind it." – Seth Godin
"In fair weather prepare for foul." – Thomas Fuller
"In the end, it is important to remember that we cannot become what we need to be by remaining what we are." – Max Depree
"Inexperience is an asset. Embrace it." – Wendy Kopp
"Innovation distinguishes between a leader and a follower." – Steve Jobs
"It is absolutely necessary ... for me to have persons that can think for me, as well as execute orders." – George Washington
"It is better to lead from behind and to put others in front, especially when you celebrate victory when nice things occur. You take the front line when there is danger. Then people will appreciate your leadership." – Nelson Mandela
"It's hard to lead a cavalry charge if you think you look funny on a horse." – Adlai E. Stevenson II
"Keep your fears to yourself, but share your courage with others." – Robert Louis Stevenson
"Lead, follow or get out of the way." – Laurence J. Peter
"Leaders are not, as we are often led to think, people who go along with huge crowds following them. Leaders are people who go their own way without caring, or even looking to see, whether anyone is following them. "Leadership qualities" are not the qualities that enable people to attract followers, but those that enable them to do without them. They include, at the very least, courage, endurance, patience, humor, flexibility, resourcefulness, stubbornness, a keen sense of reality, and the ability to keep a cool and clear head, even when things are going badly. True leaders, in short, do not make people into followers, but into other leaders." – John Holt
"Leaders aren't born, they are made. And they are made just like anything else, through hard work. And that's the price we'll have to pay to achieve that goal, or any goal." – Vince Lombardi
"Leaders grasp nettles." – David Ogilvy
"Leaders live by choice, not by accident." – Mark Gorman
"Leaders must be close enough to relate to others, but far enough ahead to motivate them." – John Maxwell
"Leaders think and talk about the solutions. Followers think and talk about the problems." – Brian Tracy
"Leadership and learning are indispensable to each other." – John F. Kennedy
"Leadership comes in small acts as well as bold strokes." – Carly Fiorina
"Leadership consists of picking good men and helping them do their best." – Chester W. Nimitz
"Leadership does not depend on being right." – Ivan Illich
"Leadership is a choice not a position." – Stephen Covey
"Leadership is a potent combination of strategy and character. But if you must be without one, be without the strategy."– Norman Schwarzkopf
"Leadership is a privilege to better the lives of others. It is not an opportunity to satisfy personal greed." – Mwai Kibaki
"Leadership is a series of behaviors rather than a role for heroes." – Margaret Wheatley
"Leadership is a two-way street, loyalty up and loyalty down. Respect for one's superiors; care for one's crew." – Grace Hopper
"Leadership is about making others better as a result of your presence and making sure that impact lasts in your absence." – Sheryl Sandberg
"Leadership is about taking responsibility, not making excuses." – Mitt Romney
"Leadership is about vision and responsibility not power." – Seth Berkley
"Leadership is an action, not a position." – Donald McGannon
"Leadership is influence." – John Maxwell
"Leadership is not about the next election, it's about the next generation." – Simon Sinek
"Leadership is not about titles, positions or flowcharts. It is about one life influencing another." – John Maxwell
"Leadership is not just about giving energy ... it's unleashing other people's energy." – Paul Polman
"Leadership is solving problems. The day soldiers stop bringing you their problems is the day you have stopped leading them. They have either lost confidence that you can help or concluded you do not care. Either case is a failure of leadership." – Colin Powell
"Leadership is the art of getting someone else to do something you want done because he wants to do it." – Dwight D. Eisenhower
"Leadership is the art of giving people a platform for spreading ideas that work." – Seth Godin
"Leadership is the capacity to translate vision into reality." – Warren Bennis
"Leadership is the other side of the coin of loneliness, and he who is a leader must always act alone, and acting, accept everything alone." – Ferdinand Marcos
"Leadership is unlocking people's potential to become better." – Bill Bradley
"Leadership is working with goals and vision: management is working with objectives." – Russel Honore
"Leadership should be more participative than directive, more enabling than performing." – Mary D. Poole
"Management is about arranging and telling. Leadership is about nurturing and enhancing." – Tom Peters
"Management is doing things right; leadership is doing the right things." – Peter Drucker
"Millions saw the apple fall, but Newton was the one who asked why." – Bernard Baruch
"My attitude is never be satisfied, Never enough never." – Duke Ellington
"My job is not to be easy on people. My job is to take these great people we have and to push them and make them even better." – Steve Jobs
"Never doubt that a small group of thoughtful committed citizens can change the world. Indeed, it is the only thing that ever has." – Margaret Mead
"No man will make a great leader who wants to do it all himself, or to get all the credit for doing it." – Andrew Carnegie
"One's philosophy is not best expressed in words; it is expressed in the choices one makes... and the choices we make are ultimately our responsibility." – Eleanor Roosevelt
"Our chief want is someone who will inspire us to be what we know we could be." – Ralph Waldo Emerson
"Outstanding leaders go out of their way to boost the self-esteem of their personnel. If people believe in themselves, it's amazing what they can accomplish." – Sam Walton
"People buy into the leader before they buy into the vision." – John Maxwell
"People who enjoy meetings, should not be in charge of anything." – Thomas Sowell
"Power isn't control at all – power is strength, and giving that strength to others. A leader isn't someone who forces others to make him stronger; a leader is someone willing to give his strength to others that they may have the strength to stand on their own." – Beth Revis
"Problems are only opportunities in work clothes." – Henry J. Kaiser
"Real leaders are ordinary people with extraordinary determinations." – John Seaman Garns
"Remember, teamwork begins by building trust. And the only way to do that is to overcome our need for invulnerability." – Patrick Lencioni
"Show me the man you honor and I will know what kind of man you are." – Thomas John Carlisle
"Simply put: we don't build services to make money; we make money to build better services." – Mark Zuckerberg
"Strong convictions precede great actions." – James Freeman Clarke
"Success at the highest level comes down to one question: 'Can you make the choice that your happiness can come from someone else's success?' No one has qualities like courage, vision, charisma, adaptability, and decisiveness in equal measure. But every great leader does make the same decision – and so can you." – Jeff Haden
"Successful leaders see the opportunities in every difficulty rather than the difficulty in every opportunity." – Reed Markham
"Surround yourself with great people; delegate authority; get out of the way." – Ronald Reagan
"The art of communication is the language of leadership." – James Humes
"The art of leadership is saying no, not yes. It is very easy to say yes." – Tony Blair
"The best leader is the one who has sense enough to pick good men to do what he wants done, and the self-restraint to keep from meddling with them while they do it." –Theodore Roosevelt
"The challenge of leadership is to be strong, but not rude; be kind, but not weak; be bold, but not bully; be thoughtful, but not lazy; be humble, but not timid; be proud, but not arrogant; have humour, but without folly." – Jim Rohn
"The employer generally gets the employees he deserves." – J. Paul Getty
"The greatest leader is not necessarily the one who does the greatest things. He is the one that gets the people to do the greatest things." – Ronald Reagan
"The hero is one who kindles a great light in the world, who sets up blazing torches in the dark streets of life for men to see by. The saint is the man who walks through the dark paths of the world, himself a light." – Felix Adler
"The key to successful leadership is influence, not authority." – Kenneth H. Blanchard
"The leaders who work most effectively, it seems to me, never say 'I'. And that's not because they have trained themselves not to say 'I'. They don't think 'I'. They think 'we'; they think 'team'. They understand their job to be to make the team function. They accept responsibility and don't sidestep it, but 'we' gets the credit… This is what creates trust, what enables you to get the task done." – Peter F. Drucker
"The mark of a great man is one who knows when to set aside the important things in order to accomplish the vital ones." – Brandon Sanderson
"The mediocre teacher tells. The good teacher explains. The superior teacher demonstrates. The great teacher inspires." – William Arthur Ward
"The older I get the less I listen to what people say and the more I look at what they do." – Andrew Carnegie
"The only safe ship in a storm is leadership." – Faye Wattleton
"The price of greatness is responsibility." – Winston Churchill
"The quality of a leader is reflected in the standards they set for themselves." – Ray Kroc
"The secret of a leader lies in the tests he has faced over the whole course of his life and the habit of action he develops in meeting those tests." – Gail Sheehy
"The secret of leadership is simple: Do what you believe in. Paint a picture of the future. Go there. People will follow." – Seth Godin
"The sharp employ the sharp." – Douglas William Jerrold
"The supreme quality for leadership is unquestionably integrity. Without it, no real success is possible, no matter whether it is on a section gang, a football field, in an army, or in an office." – Dwight D. Eisenhower
"The ultimate measure of a man is not where he stands in moments of comfort, but where he stands at times of challenge and controversy." – Martin Luther King, Jr.
"The very essence of leadership is that you have to have vision. You can't blow an uncertain trumpet." – Theodore M. Hesburgh
"There are two kinds of stones, as everyone knows, one of which rolls." – Amelia Earhart
"There is a difference between being a leader and being a boss. Both are based on authority. A boss demands blind obedience; a leader earns his authority through understanding and trust." – Klaus Balkenhol
"To handle yourself, use your head; to handle others, use your heart." – Eleanor Roosevelt
"To lead people, walk behind them." – Laozi
"To succeed one must be creative and persistent." – John H. Johnson
"Today a reader, tomorrow a leader." – Margaret Fuller
"Too many companies believe people are interchangeable. Truly gifted people never are. They have unique talents. Such people cannot be forced into roles they are not suited for, nor should they be. Effective leaders allow great people to do the work they were born to do." – Warren Bennis
"Victory has a hundred fathers and defeat is an orphan." – John F. Kennedy
"We are not interested in the possibilities of defeat; they do not exist." – Queen Victoria
"We're here for a reason. I believe a bit of the reason is to throw little torches out to lead people through the dark." – Whoopi Goldberg
"What helps people, helps business" – Leo Burnett
"When placed in command take charge." – Norman Schwarzkopf
"When the effective leader is finished with his work, the people say it happened naturally." – Laozi
"When you put together deep knowledge about a subject that intensely matters to you, charisma happens. You gain courage to share your passion, and when you do that, folks follow." – Jerry Porras
"Whenever you see a successful business, someone once made a courageous decision." – Peter F. Drucker
"Wisdom equals knowledge plus courage. You have to not only know what to do and when to do it, but you have to also be brave enough to follow through." – Jarod Kintz
"You don't lead by hitting people over the head – that's assault, not leadership." – Dwight D. Eisenhower
"You don't lead by pointing and telling people some place to go. You lead by going to that place and making a case." – Ken Kesey
"You get in life what you have the courage to ask for." – Nancy D. Solomon
"You have no power at all if you do not exercise constant power." – Major Owens
"You have to be burning with an idea, or a problem, or a wrong that you want to right. If you're not passionate enough from the start, you'll never stick it out." – Steve Jobs
"You have to look at leadership through the eyes of the followers and you have to live the message. What I have learned is that people become motivated when you guide them to the source of their own power and when you make heroes out of employees who personify what you want to see in the organization." – Anita Roddick
"You must be the change you wish to see in the world." – Mahatma Gandhi
"You're only as good as the people you hire." – Ray Kroc
"Nearly all men can stand adversity, but if you want to test a man's character, give him power." – Abraham Lincoln
"The quickest way to grow the sales of your business is to grow your people." – Robin Sharma
"The most important job you have is growing your people, giving them a chance to reach their dreams." – Jack Welch
"If Opportunity doesn't knock, build a door." – Milton Berle
"Doubt kills more dreams than failure ever will." – Suzy Kassem
"Good leaders develop ideas. Great leaders develop people. The best leaders develop new leaders." – Bobby Umar
"Saying 'No' to new opportunities is saying 'Yes' to current priorities." – Bobby Umar
Whoops, no quotes to see here. Try another filter combination.
I hope you're now feeling suitably inspired!
Do you want to become a better leader? Check out the Coachical Leadership Topic.
Are you looking for a way to inspire and develop your employees? Why not try Coachical for Business? Learn more about the Coachical Experience here.
Think we've missed an epic and inspiring quote? Please share it with us in the comments below.
If you found it useful, do please share this list.